Louis Theroux conman sentenced for pub stay fraud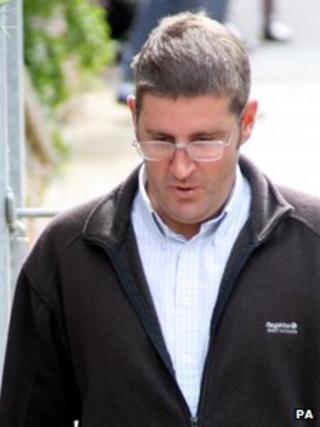 A man who claimed to be TV presenter Louis Theroux so he could stay in a pub without paying has been spared jail.
Allan Debenham, 39, spent two nights in the Duke of York pub near Ilminster, Somerset, after giving false details for the BBC's finance department.
Debenham, of Hamilton Road in Taunton, also booked a taxi in the same way.
He previously admitted two charges of dishonestly making a false representation at South Somerset Magistrates' Court.
As well as the one-year community order with supervision, magistrates ordered him to pay back the £165 he defrauded from the hotel, £14.70 to the taxi firm and a victim surcharge of £60.
'Restraining order'
He also appeared before the court on a separate matter of assaulting his former partner.
Debenham was told to pay the woman £100 compensation and made subject of a restraining order not to contact her for 12 months.
Amanda Campbell, chair of the bench, told him: "Looking at the offences in front of us today we consider the assault to be the most serious.
"However, we do think all these offences have the same root cause. We consider that the community can best be served by a sentence designed to rehabilitate.
"We also heard today that you have engaged with the health and mental services, you have been to your doctor and you have seen Turning Point and an independent alcohol worker," she added.
Although the former sales rep had booked a three-night stay at the £70-a-night pub, he was exposed after two nights by suspicious staff who called police who arrested him.
'Absolute hell'
In mitigation, Debenham's lawyer Chris Ivory said previously that his client had turned to alcohol after losing his job, his partner and his home at the end of last year.
"In desperation he tried it on. He managed to get a couple of nights' free accommodation and he accepts the prosecution case in respect of that," Mr Ivory said.
Addressing the court, Debenham said the past six months had been "absolute hell".
"I have significant difficulties with my alcohol use and I am getting help.
"People say I am doing well and I would like to continue that.
"All I can say is that I am very sorry for what I've done," he added.