Bath barge protest over derelict Newark Works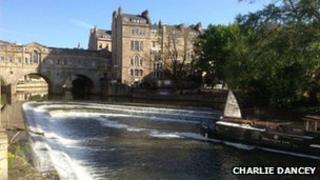 A protester has moored a Dutch barge in the centre of Bath in the latest part of a campaign about the derelict condition of an 18th Century factory.
Previously about 30 campaigners had spent two weeks squatting at Newark Works to highlight its decaying state.
Protester, Charlie Dancey has called on the council to "stop wrecking our heritage" adding the development along the Western Riverside was "atrocious".
Bath and North East Somerset Council was unavailable for comment.
Sprucing up
Newark Works, in Lower Bristol Road, was created by architect Thomas Fuller, who also designed the acclaimed Ottawa Parliament in Canada.
Mr Dancey, who is a member of the South Quay Community Arts Project (SQCAP) organising the protest, said: "Nobody at the council will talk to us, so were going to be here until they do.
"This is the most photographed location in Bath and this way our message will rapidly reach people all over the world."
Mr Dancey added that about 30 members of the group squatting at the factory had also swept the floors and tried sprucing up the building during their stay.
They have since moved out after an eviction notice was served by the council earlier this week.
The group is also campaigning to have the Destructor Bridge, now scheduled for demolition, to be relocated to Newark Works to act as a footbridge linking Green Park to the south side of the river.