Twerton student flats plan has river access concern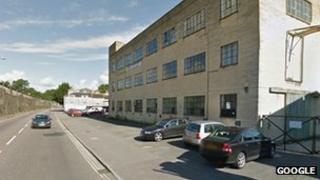 A block of student flats planned for Bath has caused concern due to the lack of access to the river Avon.
The building on the Lower Bristol Road would be next to the river but the designs have meant it would back onto the river, making access difficult.
Bath and North East Somerset councillor Sarah Bevan, said: "Our officers have recommended the development do far more to give students access to the river."
Developers Pegasus has confirmed more design development is needed.
Liberal Democrat Ms Bevan is also a member of the River Regeneration Trust in the city, which aims to reconnect the community to their local rivers.
Cabinet member for homes and planning, Liberal Democrat, Tim Ball said: "There are a few issues they are dealing with - this can be dealt with through the section 106 agreement with the developer - I've been looking to the council officers to bring forward those proposals."
Section 106 agreements are part of the conditions attached to planning consent which can help provision of secure open public spaces, infrastructure and recreational facilities.
Once built there will be room to house 279 students in flats and townhouses along with space for parking bikes and cars.
The development will mean demolishing existing industrial offices and buildings along the Lower Bristol Road.
A decision over the application is set to be made by the end of August by Bath and North East Somerset Council.