Taunton £22m NIDR road project gets final approval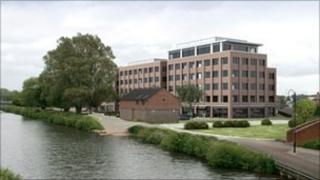 Plans for a new £22m road in Taunton to reduce the amount of traffic in the town centre have been given the go-ahead by the government.
The one-mile (1.6 km) Northern Inner Distributor Road will see Staplegrove Road, in the west of the town, linked to Priory Avenue in the east.
Somerset County Council said the road would also help with the regeneration of the Firepool area.
Work is expected to be completed by autumn 2014.
Councillor John Williams, leader of Taunton Deane Borough Council, said the news was fantastic and added the project was "much more than just a road".
"It is the key to unlock our prime development sites at Firepool and this investment will unlock £270m of economic development.
"We have had serious talks with investors but turning interest into action is very much dependent on this road. We can now resume those conversations in the knowledge that we have the road.
"The NIDR is the front door for Firepool and will open up redevelopment opportunities for the whole of the centre of Taunton."
Construction work is expected to start during the summer with a number of public consultations planned as the work progresses.
The work will also see a bridge built over the River Tone and the Bridgwater and Taunton Canal close to Priory Fields Business Park.