Bath trees cut down 'without permission'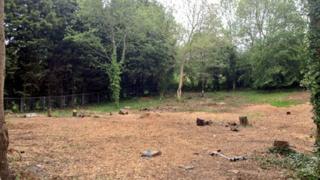 An area of woodland in Bath has been cut back without full permission, campaigners have said.
The owner of the land in Upper Weston was told by the council she could have 50 trees cut down.
But Adam Gretton, from More Trees B&NES, said more had gone and nobody was taking responsibility.
The land owner said she had nothing to do with the extra trees going and that she had been advised by her solicitor not to speak to the BBC.
Bath and North East Somerset Council said they could not take action because they did not know who had cut the trees down, on the land on the corner of Weston Farm Lane and The Weal.
A council spokesman said the trees were on private land and that the owner had notified them she wanted to cut down conifers and poplar trees around the edge of that land.
Residents 'suspicious'
He said the council accepted that on the basis of the tree type and their condition.
The spokesman added that it appeared trees in the middle had also been cut down, but an investigation had failed to discover who by.
Mr Gretton said: "It begs the question: Why are they clearing this area?
"No-one is admitting to it, so our concerns are that perhaps the current laws are not actually protecting pockets of land like this well enough."
Councillor Geoff Ward said the area was identified in the council's Core Strategy as a potential site for development.
He said: "I must admit that's perhaps why the residents have become suspicious in respect of these trees being cut down."
Mr Ward said any development would be "a long way off".
"I personally voted against this land being used," he said.
"It does seem to have gone rather too far and it's a terrible thing to see so many trees cut down in our world heritage city."