Catherine Wells-Burr death: Accused threatened ex's partner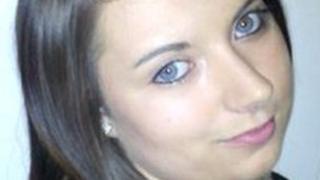 A man has told a jury his "devious" and "manipulative" former partner had threatened to kill his girlfriend.
Rafal Nowak, 31, is accused of smothering Catherine Wells-Burr, 23, last September as part of a plot to claim her six-figure life insurance policy.
His former partner Anna Lagwinowicz and her uncle Tadevsz Dmytryszyn are accused of dumping the body in her car and setting fire to it in Somerset.
All three have denied the murder.
Giving evidence at Bristol Crown Court, Mr Nowak told jurors he had cheated on Miss Wells-Burr with his former girlfriend, Ms Lagwinowicz, 32, who was devious, manipulative, jealous and vindictive.
He said: "Her benefits had been stopped and she blamed me and Catherine for that."
He told the court Ms Lagwinowicz had said she would kill Miss Wells-Burr "one day".
"I knew she hated Catherine but I never thought she could do anything like that," he said.
Mr Nowak, who has a wife and a son in Poland, claimed he only spent time with his former partner because he owed her £250 and had to pay it back in stages.
When asked by prosecutor Richard Smith QC why he had spent "all this time on the telephone" with Ms Lagwinowicz he said: "I was scared. Anna could call Catherine and tell her what I had done".
Last week Mr Nowak denied that he had smothered Miss Wells-Burr as she slept in their new home in Chard, Somerset, or that he had arranged her death.
The jury heard Mr Nowak had twice cheated on Miss Wells-Burr with Ms Lagwinowicz in 2012 - the last time being six days before Miss Wells-Burr died.
The body of Miss Wells-Burr was found inside her burning Ford Focus by firefighters.
Mr Nowak, of Willow Way, Chard, Ms Lagwinowicz, of South Street, Taunton, and Mr Dmytryszyn, 38, of Holway Avenue, Taunton, deny murder.
The case continues.