Bath Preservation Trust concerned for city archives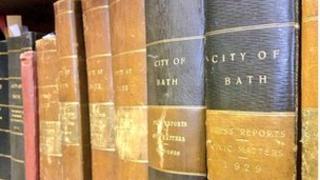 Concerns that historical documents stored in Bath do not have enough space have been raised by a group campaigning to protect the city's heritage.
The Bath Preservation Trust said the archive, located in a basement in the Guildhall, was not adequate.
Spokeswoman Dr Amy Frost said the records were of "national importance in England" so needed more space and better conditions.
She said they were used by up to 150 people per week.
'Ever growing collection'
Dr Frost said: "They [the records] stem from Elizabethan charters right though to things that are being generated today.
"They're kept in the basement of the Guildhall - including a storeroom in what used to be the original Guildhall kitchen.
"They're beautifully looked after by the staff in what is not an ideal situation.
"It's a collection that is ever growing and really needs more space to expand into."
Liberal Democrat leader of the council, Paul Crossley, said: "I absolutely agree on the historical importance of archives.
"The question for us is if we build a new building - how do we pay for that? Where do we put it?
"As a council we're doing a lot of development at the moment, so I think for something like a new archive centre, that's something we have to talk about with the Bath Preservation Trust - but we can't do it in the next year or so."