Bath's Royal United Hospital has 'worst ever winter'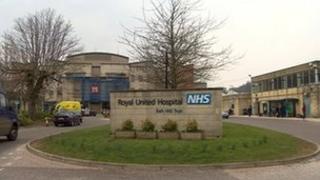 Bath's Royal United Hospital has had its "worst winter ever" for admissions, according to the district council.
Hospital representatives met with the authority's wellbeing scrutiny panel on Friday to discuss its status.
A panel spokesperson said the hospital copes well for most of the year but this winter had been particularly bad.
In March, the Care Quality Commission called for action at the hospital in some areas including patient care, welfare and respect.
The hospital responded saying the inspection had been carried out when the whole local healthcare system had been extremely busy and there was a shortage of beds in all acute hospitals and onward care within the community.
But it also apologised and said it would take steps to improve in the areas highlighted.
'Far more admissions'
Liberal Democrat councillor Katie Hall, vice-chair of the panel, said she had used Friday's meeting to ask for improved communication between the hospital, surrounding councils and other social care providers.
"I think it needs to be stepped up quite a lot otherwise we'll get into the same situation at the end of next winter," she said.
"What happens is in the winter you get far more admissions and that grows rapidly, and this winter was particularly bad.
"It was described to us as the worst winter ever at the hospital and I think that is something that we have probably heard elsewhere.
"So they need to make sure that patients who no longer need hospital care can move on and go to the right place."
The Royal United Hospital NHS Trust provides 565 beds to a catchment population of some 500,000.
It covers Bath and the surrounding towns and villages in North East Somerset and Western Wiltshire.