Catherine Wells-Burr death: Boyfriend 'had nothing to do with death'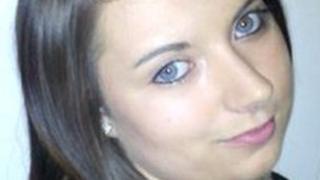 A man accused of murdering his girlfriend has told a jury he had nothing to do with her death.
It is alleged Rafal Nowak smothered Catherine Wells-Burr, 23, in September as part of a plot to claim her six-figure life insurance policy.
The body of the 23-year-old was found inside her burning car in Somerset.
Bristol Crown Court heard Mr Nowak deny smothering Miss Wells-Burr or arranging her death while being questioned by his lawyer.
His former partner Anna Lagwinowicz and her uncle Tadevsz Dmytryszyn are accused of dumping the body in her car and setting fire to it in Somerset.
Earlier during questioning, Mr Nowak said he had continued to share a bed with Ms Lagwinowicz after starting the relationship with Miss Wells-Burr.
Kissed girlfriend goodbye
His lawyer asked him why when he and Ms Lagwinowicz were arrested and placed in a police car he told her: "You will spend a long time in prison as well."
Mr Nowak said he said it because he did not know why she had been arrested or if she had said anything against him.
He told the court how he and Miss Wells-Burr had spent their last evening together eating beef burgers at the house they shared in Willow Way, Chard.
Mr Nowak added they had then shared a bath together before going to bed to watch a DVD.
He explained that before he left for work the following morning, he had kissed Miss Wells-Burr goodbye.
Miss Wells-Burr and Mr Nowak both worked together at cleaning equipment manufacturer Numatic's factory in Chard alongside Miss Wells-Burr's parents.
Mr Nowak told the court he had rung Miss Wells-Burr's mother Jane when her daughter had failed to turn up to work.
He said he later returned home with Miss Wells-Burr's parents where they found no trace of her.
Later that morning, Miss Wells-Burr's body was discovered in the burnt out remains of her car.
Mr Nowak, of Willow Way, Chard; Ms Lagwinowicz, 32, of South Street, Taunton, and Mr Dmytryszyn, 38, of Holway Avenue, Taunton, deny murder.
The case continues.