Catherine Wells-Burr death: Accused 'shared bed with ex'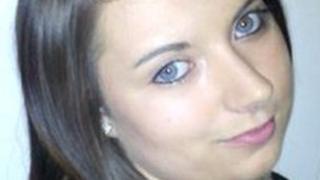 A man accused of murdering his girlfriend has told a jury he continued to share a bed with his former partner after starting the new relationship.
It is alleged Rafal Nowak smothered Catherine Wells-Burr, 23, last September as part of a plot to claim her six-figure life insurance policy.
His former partner Anna Lagwinowicz and her uncle Tadevsz Dmytryszyn are accused of dumping the body in her car and setting fire to it in Somerset.
All three have denied the murder.
Opening the case for the defence, Mr Novak's lawyer questioned him about his relationships with Miss Wells-Burr and Ms Lagwinowicz.
Bristol Crown Court heard he met Miss Wells-Burr in the summer of 2010 at the factory in Chard where they both worked.
Mr Novak, 31, said he was still living with Ms Lagwinowicz in a one-bedroom flat in Taunton when he asked Miss Wells-Burr out for a drink.
Arrested for assault
He told the court that when Miss Wells-Burr returned to university in autumn 2010 he borrowed Ms Lagwinowicz's Honda Civic car to visit her in Bath.
He said that he continued to share a bed with Ms Lagwinowicz but claimed their relationship had ended when he started seeing Miss Wells-Burr.
By April 2011 Mr Nowak, who has a wife and a son in Poland, rented his own flat in Taunton.
After leaving Ms Lagwinowicz, Mr Nowak said she became jealous. He then began receiving text messages claiming his new girlfriend was cheating on him.
The court heard that in 2011 Miss Wells-Burr became pregnant and subsequently suffered a miscarriage.
Miss Wells-Burr and Mr Nowak split up in July 2011 after she found him, fully clothed, in Ms Lagwinowicz's bed, Mr Nowak told the court.
The jury heard Miss Wells-Burr went home, but he rowed with Ms Lagwinowicz pushing her onto a bed.
He was subsequently arrested for assaulting Ms Lagwinowicz, released on conditional bail and told not to contact either women.
Days later Miss Wells-Burr and Mr Nowak got back together, but kept it secret because of bail conditions, he claimed.
Mr Nowak's barrister asked him: "Did you love Catherine?" He replied: "Yes".
The prosecution alleges that Ms Lagwinowicz created a series of fake profiles on the internet purporting to be men that were interested in starting a relationship with Miss Wells-Burr.
Mr Nowak, of Willow Way, Chard; Ms Lagwinowicz, 32, of South Street, Taunton, and Mr Dmytryszyn, 38, of Holway Avenue, Taunton, deny murder.
The case continues.