Catherine Wells-Burr death: Secret film by accused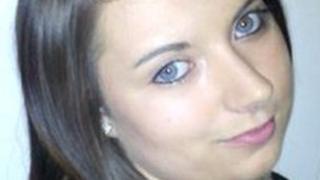 A factory worker accused of murdering his girlfriend set up a secret camera to film "intimate scenes" of them, Bristol Crown Court has heard.
It is alleged Rafal Nowak smothered Catherine Wells-Burr in order to claim a six-figure life insurance policy.
The body of the 23-year-old was found inside her burning car in Somerset.
Nowak's ex-partner Anna Lagwinowicz and her uncle Tadevsz Dmytryszyn are accused of setting fire to the vehicle. All three have denied murder.
The court heard that police were made aware of the camera in April this year, when they received a tip from a prison cellmate of Ms Lagwinowicz.
Alarm clock camera
Former inmate Anne Joyce, 21, was allegedly told about the camera in Ms Wells-Burr's bedroom at her home in Chard, by Ms Lagwinowicz.
Giving evidence Miss Joyce - who shared a cell with Ms Lagwinowicz for about four weeks - told jurors that her cellmate had confessed to killing the Bath Spa University graduate along with her uncle and ex-boyfriend.
She said Ms Lagwinowicz had showed her a picture of Miss Wells-Burr's body "like a trophy".
The jury was also shown a letter written by Ms Lagwinowicz purporting to be from a "hit man" hired to kill Miss Wells-Burr.
Ms Lagwinowicz allegedly spent weeks writing the letter to extricate herself and her uncle before asking Miss Joyce to post it when she was released from prison, jurors were told.
Mr Nowak, 31, of Willow Way, Chard; Ms Lagwinowicz, 32, of South Street, Taunton, and Mr Dmytryszyn, 38, of Holway Avenue, Taunton, deny murder.
The case continues.