Catherine Wells-Burr death: Murder accused 'showed off'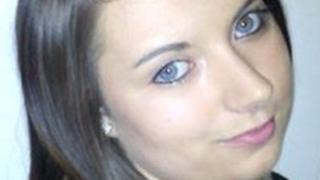 A woman accused of murdering a Somerset woman showed off a picture of her corpse, a court has heard.
Catherine Wells-Burr, 23, was found inside her charred Ford Focus at Ashill, Somerset, on 12 September.
Prosecutors allege her boyfriend, Rafal Nowak, 31, murdered her as she slept for a six figure life insurance policy.
His ex-partner Anna Lagwinowicz, 32, and her uncle Tadevsz Dmytryszyn are accused of setting fire to the body. All three have denied murder.
'Like a trophy'
Jurors at Bristol Crown Court heard one of the accused, Ms Lagwinowicz, showed a picture of Miss Wells-Burr's body to her cellmate "like a trophy".
She had shared the cell with Anne Margaret Joyce for about four weeks at Eastwood Park Prison after her arrest in connection with Miss Well-Burr's death.
Miss Joyce told the court Ms Lagwinowicz had boasted about the killing and was "proud" of the photo of the burnt body.
The picture was part of notes relating to the case, which Ms Lagwinowicz kept in her cell, the court heard.
Miss Joyce, who served a seven-and-a-half month sentence for burglary, said: "She was showing off about it, she was proud of what she had done.
"She showed me a picture of the body. It was like a trophy to her, like she was proud of it."
She added: "Anna and her ex-boyfriend had got back together."
She said the couple did not want to destroy Miss Wells-Burr's body as they would not be able to claim any insurance money if she was not found.
But she said they had burnt her remains to destroy evidence.
Miss Joyce also said Ms Lagwinowicz had spent two weeks in her cell carefully constructing a letter purporting to be from a hit man hired to kill Miss Wells-Burr by Mr Nowak, in an attempt to extricate herself and her uncle from the crime.
The court heard she offered Miss Joyce cash, trips and a caravan if she took the letter out of prison and posted it to prosecutors the day after her release.
The case continues.