James Dyson donates £4m to new Bath cancer centre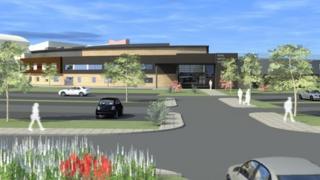 Sir James Dyson has donated £4m towards the building of a state-of-the-art cancer centre at a Bath hospital.
It is the biggest ever donation received by the Royal United Hospital (RUH) according to its fundraising charity, The Forever Friends Appeal.
The hospital is spending £20.5m on the unit, £8.5m of which is being raised by the charity, which will open in 2017.
Mr Dyson donated the money through his foundation which supports medical and scientific research projects.
'Therapeutic environment'
"This new cancer centre will use cutting edge technology and well considered design to improve the health of its patients," said Mr Dyson.
The Wiltshire-based inventor set up The James Dyson Foundation in 2002 to support design and engineering education.
It has grown since then into support of medical and scientific research as well.
As a result of this particular donation, the Forever Friends Appeal said it had been able to extend its fundraising target from £5.5m to £8.5m.
John Cullum, chairman of the Forever Friends Appeal, said: "This will enhance even further the therapeutic environment that RUH doctors are aiming to create, and maximise its impact for patients with additional state-of-the-art medical equipment, dedicated research facilities, as well as art and pastoral gardens."
The RUH provides cancer services for a catchment area of half a million people in Bath and North East Somerset, Wiltshire and the Mendip area of Somerset.