Ansford public meeting on rail bridge repairs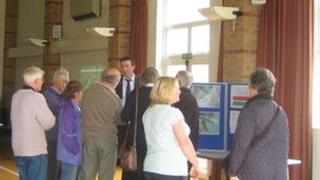 About 400 people have attended a public meeting in Somerset to voice concerns about road repair work which could last almost five months.
Network Rail organised the drop-in session to hear views from local residents about work to mend the A371 Ansford Bridge near Castle Cary.
The work starts on 8 July after it was postponed in September following complaints about poor consultation.
It is expected to take 19 weeks and means an 18-mile diversion for some.
'Every sympathy'
Chair of Ansford Parish Council Janette Cronie said: "People locally are very anxious. They are concerned about the impact on local business and the increase of traffic.
"One of the biggest concerns this morning is that there is no-one from highways, we invited them but they said there was no need to come."
John Baker from Network Rail said: "We have every sympathy with the local residents but the fact is we have consulted very widely with them.
"We've also, following consultation with Somerset County Council, already reduced the original road closure programme from 24 weeks to 19 weeks."
He added that they were also investigating the costs of advertising for local businesses.
'Final straw'
He said: "We are planning to run a series of weekly advertisements for them in order to boost their businesses as much as we possibly can."
Lyn Powell, who runs the Brook House Inn on Station Road, said: "If you've got a customer base that has to go that distance to get to you, after a while they're not going to actually bother.
"They're going to find somewhere else a bit nearer to them and you may lose that trade when the road reopens. It could be the final straw which breaks the camel's back."