Father of wall collapse girl feels 'heart's ripped out'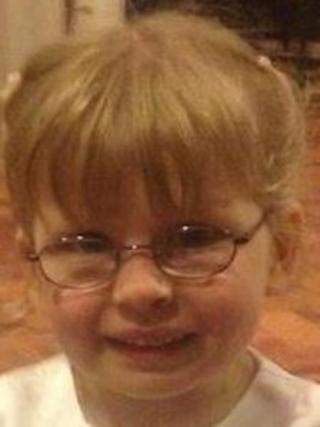 The father of a four-year-old girl who died when a concrete shed collapsed on top of her said he feels like "his heart has been ripped out".
Surranna Stonestreet was playing in the back garden of her home in Bath when a 6ft wall collapsed on top of her.
Karl Stonestreet was dismantling the doorframe of a shed when the wall caved in at about 16:00 BST on Friday.
He said that he had thought Surranna was playing on a trampoline at the house on Haycombe Drive.
'So cut up'
"She had six big breeze blocks on her, which I had to move quickly off of her to get her out and to take her up to the house," he said.
"It just feels like your heart has been ripped out and just chucked, literally. I wouldn't wish this on my worst enemy."
Mr Stonestreet's cousin, Andy Bristow, said reports claiming Mr Stonestreet was knocking down the wall with a sledgehammer were wrong.
He said Mr Stonestreet was doing the work because he was worried that the shed - made before the family moved into the house - would fall down.
"Every story in every paper have put that Karl was using a sledgehammer to knock the wall down. He didn't hit the wall down at all," he said.
"He was just prising the doorframe away from the wall so he could gradually take the wall down, bit by bit.
"We want to get the facts straight. He is so cut up. Everybody is looking at him and blaming him, he is blaming himself as it is.
"He needs to get it out and straight. I think the family have gone through enough as it is."
Family members and paramedics carried out emergency life support, but Surranna died shortly after arriving at hospital.
Avon and Somerset Police said the death was not being treated as suspicious and has been referred to the Avon Coroner.