Warning signs placed on Burnham-on-Sea jetty after fall death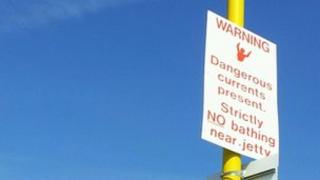 Warning signs have been added to a jetty in Somerset by the local council after a four-year-old boy drowned when he slipped from it.
Dylan Cecil fell into the water at Burnham-on-Sea on 19 August while trying to get a closer look at the sea.
The body of the boy, who was from Kettering, was found four days later.
Sedgemoor District Council said the new warning signs informed visitors and residents that pedestrians should not go to the end of the jetty.
The new signage has been introduced in addition to the existing signs and the replacement audible warning systems that will be used by the beach wardens and life guards.