Police sponsorship deal 'back door privatisation'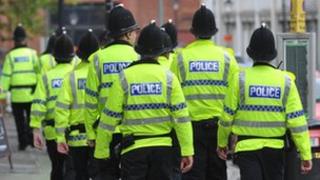 A police federation has said using sponsorships deals to bring in extra revenue for police forces is "privatisation through the back door".
One of the South West's police and crime commissioner's is considering taking on a deal for the five police forces in the area.
But the Avon and Somerset Police Federation said this could leave the forces open to allegations over deals.
Forces across England and Wales face funding cuts of up to 20% by 2015.
Martyn Underhill, Police and Crime Commissioner (PCC) for Dorset, said he was in discussions with a potential sponsor who is keen to make a regional sponsor deal.
This would include forces from Dorset, Avon and Somerset, Wiltshire, Gloucestershire and Devon and Cornwall.
'Absolutely wrong'
Kevin Phillips, chairman of the Avon and Somerset Police Federation, said a sponsorships deal was tested by the force but scrapped for good reason.
"Once you start entering into sponsorships deals you start losing the independence of the police.
"Whilst I appreciate everybody is losing money and having to cut back, I still think it would be absolutely wrong if we start entering into sponsorship with private companies for the police service - this is privatisation through the back door."
Police forces are allowed to raise 1% of their budget through private funding. For Dorset this would amount to about £1m and £3m for Avon and Somerset Police.
Mr Underhill said: "In a funding crisis I have to try to find another way.
"If we get a reputable national company with no connection to policing or the criminal justice system this could be a way of actually increasing my budget, and at the end of the day getting more police officers on the street."
He also denied that a private sponsorship deals would compromise the police forces involved.
The issue is due to be discussed at the next regional PCCs and chief constables meeting on 29 May.