Catherine Wells-Burr trial: Dead when car set alight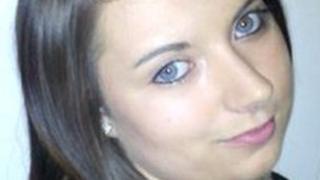 A business analyst whose body was found in a burnt out car was dead before it was set alight, a court has heard.
Catherine Wells-Burr, 23, was found inside her charred Ford Focus at Ashill, Somerset, on 12 September.
It is alleged her boyfriend, Rafal Nowak, 31, murdered her as she slept for a six figure life insurance policy.
His ex-partner Anna Lagwinowicz and her uncle Tadevsz Dmytryszyn are accused of setting fire to the body. All three have denied the murder.
Firefighters were alerted to the car fire after a "plume of smoke" was spotted near the A358, a jury at Bristol Crown Court heard.
In a statement read to the court Andrew Millar, of Devon and Somerset Fire and Rescue Service, said they found the car "engulfed in flames from end to end".
'Blunt-force trauma'
The fire had been started from inside the car and Miss Wells-Burr was strapped into the driver's seat with the seat belt clipped in.
A post mortem examination of the body - which was so badly burned it had to be identified from dental records - showed a fracture on the right side of the back of the head.
The court heard there were a number of fire-related fractures in the skull, but that this fracture was "deeper and slightly different".
Pathologist Dr Hugh White said: "All I can suggest was there had been some kind of blunt-force trauma to the back of the head."
But while experts believed the fracture occurred prior to the fire, they were unable to say whether it happened before or after death.
Dr White added that he carried out several different tests on Miss Wells-Burr's body, including examining the airway and taking blood samples.
"Putting all these factors together, it is my opinion that she was almost certainly dead when the fire started," he said.
Because of the intensity of the fire it was not possible to give a precise cause of death, the court was told.
Prosecutors have previously alleged Polish national Nowak, of Willow Way, Chard, smothered his girlfriend as she slept.