New music event to replace Weston's T4 concert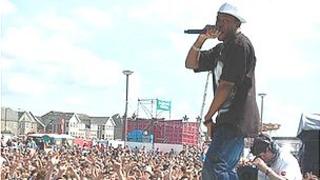 A new music event in Weston-super-Mare has been set up to replace the annual T4 on the Beach event, after it was dropped by Channel Four.
More than 30 artists have been booked to appear at Summer Sets on the Beach, which will be held on Weston beach on Saturday, 31 August.
North Somerset Council's Felicity Baker said: "We're very excited and looking forward to it."
She said the annual summer concert had become "synonymous" with the town.
Production company Done And Dusted, which produced the T4 gigs, will manage the concert.
The T4 music concert injected around £5m to the local economy every year since it began in 2005.
But when Channel Four dropped the T4 brand in 2012, it cancelled its related programmes and tie-in events.
Local businesses were keen for a replacement event to be found, fearing tourism trade would be affected.