Medals ceremony and homecoming parade for 40 Commando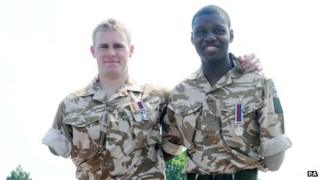 Former Royal Marine Mark Ormrod was on a routine patrol on Christmas Eve in 2007 when both his legs and one of his arms were blown off in a landmine blast.
"I couldn't see anything, my ears were ringing, my brain was rattling and I could hear everyone around me shouting, trying to figure out what had just happened," he said.
"It was about 15 seconds but it felt longer, but I was talking to myself in my head, 'turn around, turn around, turn around'.
"I knew exactly where it was I needed to start looking and then three or four seconds in, something clicked in my head and told me that I wasn't actually moving, but I couldn't figure out why until the sand and dust finally settled and I'd realised the extent of my injuries."
'Elite soldier'
Mr Ormrod was serving with 40 Commando during Operation Herrick 7. His colleagues are set to mark their final deployment to Afghanistan with a medal ceremony and homecoming parade later in the month.
But for some, like Mr Ormrod, the future has changed irrevocably.
It was his first tour to Afghanistan and he was about halfway through his deployment when the landmine changed his life.
He was flown to Queen Elizabeth Hospital in Birmingham, where he was treated for his injuries and began his rehabilitation.
The 29-year-old said: "I kind of felt angry - you're told you're trained as an elite soldier and you're told you're the best on the planet."
"In my head I thought I had been beaten by a piece of metal which angered me.
"If this had been followed up with a small arms attack by the enemy then people could have died, which in my head, would have been my fault."
The life-changing injuries meant simple tasks of getting out of bed would take nearly two hours.
'Incredibly painful'
But he believes his Royal Marines' training helped him pull through.
"By the time I was 18, I had earned my green beret, it's part of me, made me who I am, gave me certain skills and qualities that I don't think I would have got anywhere else," he said.
His made his first goal to use prosthetics so he could receive his campaign medals standing up, rather than be wheeled in for the ceremony.
Speaking of the ceremony which took place in May 2008, he said: "It was incredibly tough, incredibly painful, I still hadn't healed properly then, I had lots of open wounds, they were very swollen and tender.
"The energy it takes for an above-knee amputee, it takes over 300% more than an able-bodied person, I was still recovering, still weak, still healing.
"It was extremely hard, did best not to show it, but it was hurting."
'Picking and choosing'
Since he left the military, his achievements have included writing a book about his experiences, fundraising for the Royal Marines Association through a number of physically tough challenges and carrying the Olympic Torch during the UK-wide relay last May.
"A lot of people have a hard time understanding this, it has opened a lot of doors for me," he said.
"It's given me a career as a motivational speaker, so I travel the world telling my story to big companies and individuals.
"There's so many things I want to do and so many opportunities, it's a case of picking and choosing them wisely."
And, despite losing three of his limbs, he maintains that the personal cost was worth it.
"I was fortunate I made it back alive. Some of my friends weren't not so fortunate so maybe for the families of those guys, they may have a different opinion to me, so that's why I am always very sensitive to them.
"For a man who has two children and a third one on the way, if the small part that I played in the whole conflict just does a little bit to make their future safer, if they can walk the streets safely then for me personally, it's worth it."