Catherine Wells-Burr trial: Accused man's 'email' evidence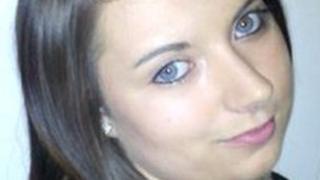 The boyfriend of a woman killed and placed in a burning car told of her receiving threatening emails from an ex-boyfriend, a court heard.
Rafal Nowak, 31, is accused of murdering Catherine Wells-Burr at the home they shared in Chard, Somerset.
Mr Nowak told a friend that one email said, "If I can't have you, nobody else can... ", Bristol Crown Court heard.
Miss Wells-Burr, 23, was allegedly smothered to death before her body was found on 12 September.
'Worried' state
The court was told that only hours after Mr Nowak allegedly killed his girlfriend, he clocked into work as normal.
When Miss Wells-Burr failed to turn up at the factory where they both worked, Mr Nowak approached his shift manager, Lukasz Koscinski, in a "worried" state.
Mr Koscinski said Mr Nowak told him that the e-mails had been sent in the weeks before she failed to arrive.
Realising that Miss Wells-Burr was missing, Mr Koscinski said he called her mother, who also worked at the factory.
The court heard there was no sign of Miss Wells-Burr and her car was missing.
The jury has been told that Mr Nowak killed Miss Wells-Burr for a six-figure life insurance policy.
The case continues.