WWII Arctic veteran says he might not live to see medal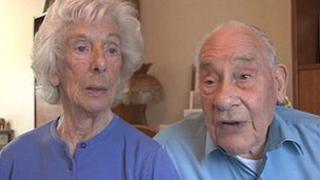 A Somerset veteran of the Arctic convoys in World War II is worried he might die before he receives his medal.
The creation of the Arctic Star was announced in December after a long campaign to recognise the work of an estimated 400 living veterans.
The first men received their medals in March but 90-year-old Raymond Scutt, from Cannington, is still waiting.
A Ministry of Defence (MoD) spokeswoman said medals were "being sent to veterans within the next few weeks".
More than 3,000 seamen died over four years from 1941 on the Arctic convoy missions to deliver supplies of food, fuel and munitions to ports in the Soviet Union.
Despite being eligible for the Atlantic Star, convoy veterans campaigned for 16 years for a specific Arctic medal and at the end of last year Prime Minister David Cameron announced the creation of the Arctic Star.
'Waited 70 years'
But two months after applying for it, Mr Scutt is still waiting.
"I don't think I'll live long enough to get my medal," he said.
"We've waited over 70 years so time doesn't matter now. They've taken so long but I can't live forever, can I?"
The missions, which came under near constant attack in often atrocious weather, were described by Winston Churchill as the most dangerous of the war.
"These young men went through hell and they've earned their medal and they should get cracking," said Mr Scutt's wife, Stella.
"He looks for the postman every day.
"If 50 of them have received their medal, then all of them - they all went through the same hell out there in the Arctic and they're all entitled to have their medals now."
An MoD spokeswoman said living veterans and widows were "first in line" to receive the medals.
She said: "Applications are currently being processed with medals being sent to veterans within the next few weeks."