Catherine Wells-Burr death: Three 'plotted body-in-car murder'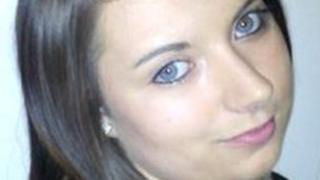 A factory worker killed his girlfriend after plotting with his lover and her uncle, a court has been told.
Rafal Nowak, 31, denies murdering Catherine Wells-Burr, 23, as she slept at their home in Chard, Somerset, last September.
His former partner Anna Lagwinowicz, 32, and uncle Tadevsz Dmytryszyn, 38, are accused of putting the body in a car and setting fire to it.
They also deny murder, in the trial at Bristol Crown Court.
'Mystery man'
The three are accused of creating a fake trail of text messages with a "mystery man", implying Miss Wells-Burr was having an affair with an unidentified man who was responsible for her death.
The court was also told how Ms Lagwinowicz created fake profiles on social media from fictional male admirers and signed up to an explicit dating website pretending to be Miss Wells-Burr.
But police found clues pointing to Mr Nowak, the "bitter" and "jealous" Ms Lagwinowicz, of South Street, Taunton and her uncle, Mr Dmytryszyn of Holway Avenue, Taunton, the court heard.
The murder was the result of months of secret meetings and phone calls between Mr Nowak and Ms Lagwinowicz, with Miss Wells-Burr oblivious to her part in the so-called "love triangle", the court was told.
'Love triangle'
Prosecutor Richard Smith QC said Miss Wells-Burr met Mr Nowak, of Willow Way, Chard, at Numatic International - which has a factory in the town.
They formed a relationship and Mr Nowak - who arrived in England in 2008, leaving his wife and child behind in Poland - split with Ms Lagwinowicz.
"They were going to get rid of Catherine from the love triangle and then they were going to make money out of it at the same time," Mr Smith said.
Miss Wells-Burr's body was discovered by fire crews in her Ford Focus in a field in Ashill.
It is alleged she was killed between 10 and 13 September last year.
The trial is expected to last up to eight weeks.