Weston's deputy mayor refuses to wear fur-trimmed robe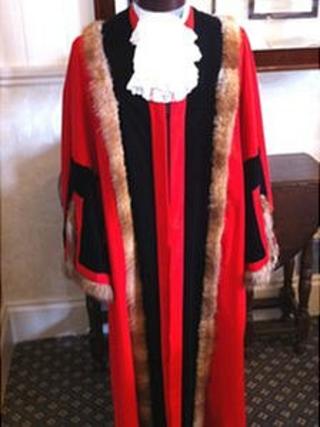 The new deputy mayor of Weston-super-Mare has refused to wear her ceremonial robe as it is trimmed with real fur.
Councillor Roz Willis, who is due to take up office next month, said she could not "ethically or morally" wear the 80-year-old garment.
"I can't wear fur - there's no way I could wear real fur, a dead animal around me at all," she said.
The town council has agreed to replace the robe's trimming with artificial fur at a cost of £240.
Weston has had a mayor and deputy mayor since the town became a borough in 1937 under a charter granted by George VI.
'Past its best'
The ceremonial robes, trimmed in either ermine or muskrat, are also thought to date back to the 1930s.
"They are old and because it's only a trimming of fur you don't really think about it," said Ms Willis.
"But I didn't ask for new robes or new trimming, I just said I'm prepared to wear my ordinary town council robe or no robe at all."
The mayoral robes are worn about four times a year for formal occasions such as Remembrance Sunday.
Malcolm Nicholson, the town clerk, said the town council had agreed to refurbish the deputy mayor's robe.
"The fur has started to deteriorate over the decades of use and is a bit past its best," he said.
"And when the issue came up, replacing the real fur with artificial fur seemed a sensible solution."