Wind turbine plan for Pilrow Farm is rejected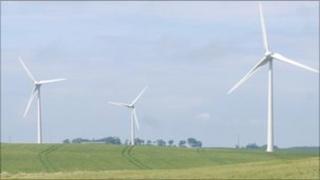 Plans to build four wind turbines on the Somerset Levels have been rejected by Sedgemoor District Council.
Broadview Energy Limited had applied to build four 130m (426ft) turbines on land east of the M5 near Rooksbridge.
But councillors objected on the grounds of its visual effect on the landscape and its proximity to protected wildlife sites for birds.
The firm said the council failed to consider the UK's need to cut carbon emissions and improve energy security.
'Tall structures'
Tom Cosgrove, project manager for Broadview, said: "Visual change is an inevitable consequence of building tall structures such as wind turbines.
"However, the expansion of wind energy remains central to UK energy policy.
"Therefore, decision makers must carefully consider in each instance whether the country's ambition to increase its green energy supply and keep the lights on outweighs that visual change."
But the council said there was no presumption in favour of sustainable developments when they affected protected wildlife sites, such as the Somerset Levels.
The fear was the turbines would be in the flight path of migratory wetland birds moving between the Somerset Levels and the Severn Estuary.
Broadview has said the turbines would generate enough electricity to power 7,560 homes.
As part of the plans, a community fund of £2,500 per MW of electricity was proposed. The firm said over the 25-year lifetime of the turbines, it would have amounted to between £500,000 and £750,000.
The plans had been recommended for rejection by planning officers.
Residents who had campaigned against the plans have welcomed the decision.
Broadview is considering its options.