Campaigners in Bridgwater petition against badger cull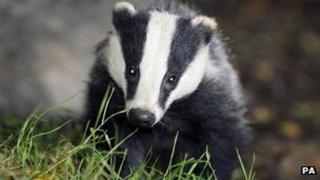 Campaigners against a badger cull in Somerset have staged a protest in Bridgwater, encouraging shoppers to sign an online petition against it.
The Government approved a cull in the county for this summer to try to stop the spread of TB in cattle.
But campaigners say a previous trial shows killing badgers does not work.
Under the plans the animals will be shot in the open without first being trapped in cages, which is current practice.
About 50 members of the Badger Night Walkers were handing out leaflets to the public asking them to sign a government e-petition.
They need a total of over 250,000 signatures by the end of April.
'Lash out'
Badger Protection League (BPL) spokeswoman Pauline Kidner, who supports the Badger Night Walkers, said: "We have had people joining us throughout the day and have issued about 2,000 leaflets to members of the public.
"I think the Government very much underestimates that once that first picture of a badger shot is out, there will be a huge lash out from the general public.
"We are looking at it from a scientific and common sense point and we're doing our best to stop it from happening."
Pilot culls are due to take place in West Somerset and Gloucestershire.
The RSPCA, which opposes a cull, said studies found it would not have a major impact on the spread of TB. The charity supports a vaccination programme.
But James Small, the chairman of the National Farmers Union in Somerset, said: "The fact remains that if we do nothing about it, this will continue to spread.
"It is not just simply a case of controlling it in the cattle, we are already doing that and it isn't working.
"We have to take evidence from elsewhere in the world, we have to see what other countries have done to try to control TB and none of them have been able to control it without addressing the situation that is there within their wildlife."