Food banks replace crisis loans in Somerset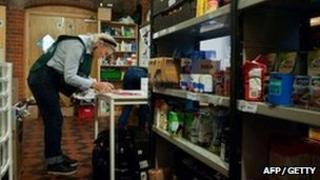 People in Somerset struggling to pay for food who previously could have applied for a crisis loan will now be directed to charitable food banks.
The crisis loan scheme - part of the Social Fund - was scrapped by the government on 1 April.
Somerset County Council will instead receive £1.1m from the government to fund a Local Assistance Scheme, which will include funding for food banks.
The authority said it would be less bureaucratic than handing out vouchers.
The Local Assistance Scheme - which is replacing the Social Fund - will help with basic essentials, including food, furniture and fuel to heat essential rooms.
People can access the scheme through their local Citizens Advice Bureau or West Somerset Advice Bureau.
'Sufficient funding'
A Somerset County Council spokesman said: "Different local authorities are doing different things, but there is strong encouragement by government to provide services in-kind rather than through cash or vouchers.
"We will use all of the money transferred from the Department for Work and Pensions to fund the Local Assistance Scheme and this will include providing funds to food banks and other local charities to cope with increased demand."
The £1.1m provided by the government is for the year 2013/14, the council said.
Ros Smith, co-ordinator at the Glastonbury food bank, said the change could place her organisation under increasing pressure.
"I think it is quite possible that it will increase the demand on our service," she said.
"We depend on donations, so it's whether the good will is there amongst the community to help out people who are facing these kind of crisis."
Previously, those in need could turn to the fund, which offered loans averaging about £50 to overcome short-term financial crises - repaid through benefits.
Family Action, which works with disadvantaged families in Somerset, said sending people to food banks rather than giving out the crisis loans could have a negative impact on the most vulnerable people in the county.
The charity's chief executive, David Holmes, said: "What we are concerned about is that there is sufficient funding to do this because we know that times are hard.
"When people are in crisis they do need help and we need to make sure that support is there and there is sufficient support too.
"I think the important thing is that people can access food as soon as they need it and if there are children in the family it becomes all the more important."