Bath-Bethlehem charity gets backing from Tony Blair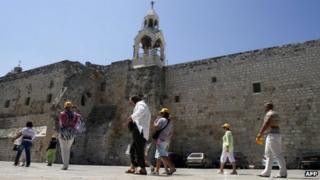 A charity set up to build cultural links between Bath and Bethlehem has won the backing of former Prime Minister Tony Blair.
The charity, Bethlehem-B&NES Links, was set up by retired businessman Peter Downey from Wellow, near Bath.
He said: "There should be trade, sport and cultural exchanges at grassroots level to increase our understanding of what its like to be other there."
It has the blessing of the Middle East peace mission headed by Mr Blair.
As part of its aims, the charity is planning a sports festival involving about 100 secondary school age pupils, which is set to take place between October 21 and 26.
Teams from Bath and Bethlehem will play football, netball, basketball and table tennis and also take part in a swimming gala.
Students will also be taken on a tour of the Bath area as part of the visit.
The Office of the Quartet Representative has given its blessing to the project. The Quartet was set up in 2002 and is made up of the UN, the European Union, United States and Russia.
The peace mission headed up by Tony Blair aims to build "Palestinian economic development and institution-building in preparation for eventual statehood".
Charity founder, Mr Downey worked for several years building up business links with the Middle East during his career.