Somerset prepares for influx of thousands of Hinkley workers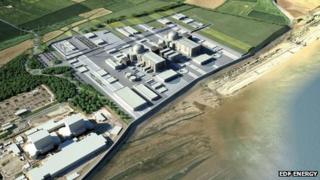 As Hinkley Point C, a new nuclear power plant in Somerset is given the go-ahead by the government, what impact will thousands of construction workers have on the county?
A new nuclear power plant at Hinkley Point in Somerset is expected to take between eight and ten years to build.
At the peak of construction, up to 5,600 people will be working on the plant and during the lifetime of the project, up to 25,000 jobs could be created.
Some fear such an influx of workers is bound to strain the local infrastructure to breaking point.
Professor John Glasson is from the Institute of Sustainable Development at Oxford Brookes University and is also a consultant for developers EDF Energy.
He has studied the impact during the construction of the Sizewell B plant, when about 5,000 people were employed.
Professor Glasson said in the early years of construction of the new power plant there would be little change.
"Certainly in the early years maybe up to half [of workers] will be local," he said.
"They will have their own houses and the main impact will be very positive in terms of raising income levels and helping the economy.
"As the project builds up to peak three or four years in, the number of incoming workers will increase and they will need to be accommodated in various ways."
'High wages'
As part of the planning process, local councils have complied a series of impact reports, exploring the effects on Bridgwater, the largest town closest to Hinkley Point, as well as the numerous villages and hamlets in West Somerset and Sedgemoor such as Cannington and Stogursey.
In Bridgwater, 1,000 beds for workers will be provided at two campuses. About 500 workers will be based at a third campus, close to Stogursey.
Alan Searle is the chairman of Stogursey Parish Council and has lived in the village since 1960, when construction began for Hinkley A and B.
"In the local pubs we were sitting on one side and the newcomers were sat on the other side...it took ten years for them to gel with the local community," he said.
Mr Searle is now set to experience a third wave of migration and he has fresh concerns over the lack of amenities for workers.
"Where are they are going to go for their entertainment?
"They will want to explore, which we expect them to and hopefully bring some money to the local economy, but we've only got a couple of shops and a pub. Before we had three pubs and five local shops."
Other negative effects include rises in crime, increased traffic and a squeeze on local services.
Corporate director at Sedgemoor District Council Doug Bamsey, said: "The potential effects if not addressed could include putting pressure on the housing market, if people were looking for temporary accommodation while they were working here.
"They come with higher wages than there is normally locally and that could put real pressure on the local private rental sector."
To this end, £8.5m is set to be invested in a local housing fund to help with problems such as homelessness.
The money is part of a £100m community benefits fund from EDF which aims to lessen the negative impacts of the project.
'Splurge in crime'
A report by Avon and Somerset police said 90% of workers were expected to be male and mostly in the 30-55 age group. This could lead to an increase in anti-social behaviour, domestic violence and other criminal activity.
Professor John Glasson said: "There was a bit of a peak, a splurge in crimes [during the Sizewell B build], especially drink-driving but because the project was being monitored very closely this was very quickly stamped out in all kinds of ways."
In terms of crime, another measure being introduced by EDF is a code of conduct that was first used during the Sizewell B build.
Professor Glasson said: "We've learnt a good deal from Sizewell and if people do things wrong they will lose their job."
But for smaller villages like Stogursey, the influx of workers is likely to be more keenly felt than Bridgwater.
"A lot of the newcomers had their families and their children had children of their own," Mr Searle said.
"Over the past 50 years it has altered the village tremendously but we now all work together and for one another which is great."