Residents blame 'slippery road' for five crashes in 12 hours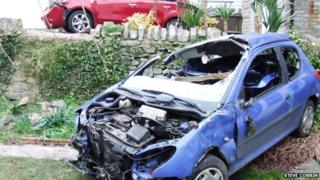 Residents have claimed a road surface is too slippery after five car crashes outside their homes in 12 hours.
Steve Cobbin and neighbour, Colin Brine, live on the A371 at Evercreech in Somerset and endured a spate of collisions on Monday and Tuesday.
The most serious saw a car land upside down in Mr Cobbin's garden after writing-off his neighbour's parked car.
A council spokesman said the road was inspected on Tuesday but "no defects or unusual road conditions were found."
'180-degree spin'
The accidents, near the Pecking Mill Inn, began on Monday afternoon when Mr Cobbin arrived home to find a car straddling his driveway.
"There was a lady in some distress because she'd done a 180-degree spin and ended up across our driveway," he said.
Three hours later, Mr Cobbin was in his living room, when a car crashed through his neighbour's fence and into his garden.
"There was an almighty crunch, bash, wallop and a car lands outside our living room window on its roof with a girl hanging there," he said.
"Luckily she was more or less unharmed but it took the fire brigade two hours to get her out and it damaged our porch, walls and the lawn."
The following morning a further three crashes saw two cars colliding with each other, a car in a ditch and another crashing into a wall. No-one was injured.
"We've become a bit inure to this because we've had four cars in the garden in the last few years and in 2007 a lorry lost its load of beer into our garden," said Mr Cobbin.
"But after the last accident I could see that wheels were spinning on the road - it was skiddy - and there was definitely no friction at all."
'No defects'
Mr Brine, who lives next door to Mr Cobbin, said "everyone thinks it's all speed but it's not".
"It is an awkward bend and there is an awkward camber but there's enough signs saying slow down," he said.
"The road surface is very smooth and quite slippery and I think that's why they lose control."
A Somerset County Council spokesman said the authority was aware of only two reports of road traffic collisions on Monday.
"The road was resurfaced about three years ago," he said.
"On inspection on Tuesday, no defects or unusual road conditions were found."