Dylan Cecil sea fall inquest: Parents absolved of blame
28 February 2013

From the section

Somerset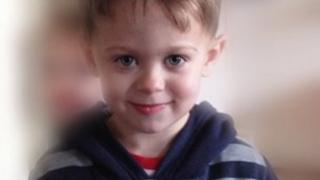 The parents of a four-year-old boy who died after falling into the sea in Somerset have been absolved of any blame in his death.
Rachel McCollum and Darren Cecil were on holiday from Kettering when their son, Dylan, was swept off the jetty at Burnham-on-Sea in August.
Coroner Michael Rose recorded a verdict of accidental death caused by drowning and said it was a "tragedy".
The accident happened on 19 August during a family holiday.
'He's gone'
The court heard that despite efforts by both parents who jumped in to save him, he had disappeared beneath the water.
Ms McCollum said she was shouting: "My boy, he's gone."
Dylan's body was found almost four days later by a walker who noticed what he thought was a child "sleeping in the sand".
The court was told that Dylan had wanted to see the sea so the family walked down to the jetty where children were playing while waves crashed around them.
In a statement, read to the court, Dylan's mother said: "I turned around and saw Dylan was still jumping in the water. He had moved towards the edge of the jetty.
"He was jumping and laughing. But he suddenly went into the water. I heard a plop. I couldn't believe it was him."
Both parents dived in after their son but had to be rescued themselves due to the extremely strong currents. Ms McCollum said the water was like a "whirlpool".
Mr Cecil, described as a poor swimmer, said in a statement: "I couldn't feel the bottom of the sea with my feet. I managed to get my head above the surface of the water. I was looking around, I couldn't see Dylan.
"I saw Rachel jump in. I can remember her shouting, 'Where's Dylan gone?' All my energy had gone trying to fight against the current.
"I remember saying [to Ms McCollum] 'I'm gone'.
"I really thought I was going to die."
He said he then saw his daughter on the jetty which gave him a "new lease of life".
Coroner Michael Rose said: "It is something that could happen to any parent. We cannot restrain children. They have a life to live. Sadly, this was a tragic way to end it."