Brewhouse theatre closure: Arts groups search for new venue
23 February 2013

From the section

Somerset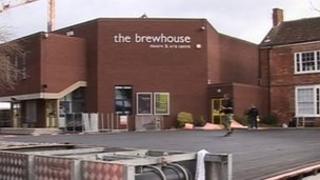 Arts groups in Somerset say they are struggling to find a new venue for their shows after the Brewhouse Theatre and Arts Centre closed this week.
The theatre in Taunton went into administration on Thursday with its board blaming "underfunding".
A fight to keep it open as a volunteer-run venue has already begun.
Jill Venn, chairman of Taunton Amateur Operatic Society, said their main aim was to ensure their production of The Sound of Music took place in April.
Ms Venn said: "There are an awful lot of people involved. It's not just the people on the stage, it's all the background people as well that are involved.
"We are still continuing with rehearsals hoping that we can either be at the Brewhouse or find an alternative venue. We are determined that the show will go ahead."
Dave Mullen, director of the Taunton Scout and Guide Gang Show which has been held at the theatre for 23 years, said: "One of the problems I've got is because I've got a cast which is probably 75% under-18s I can only really put on the show during the school holiday period.
"Given the speed at which the Brewhouse closed we are six, seven weeks away from our performance so other venues have already got commitments."
Arts Council England withdrew regular funding to the Brewhouse in 2005 and Somerset County Council cut all its arts funding in 2010.
The theatre has been receiving an annual grant of £152,000 from Taunton Deane Borough Council which had been set to continue but Paul Birch, from the Brewhouse board of governors, said its financial position was "untenable".