Row over pirate-themed golf course in Weston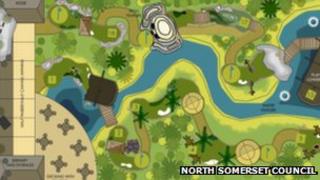 A row has broken out over plans to create a pirate-themed golf course on the Beach Lawns in Weston-super-Mare.
North Somerset Council has approved a 25-year lease for an 18-hole course, which it says will raise some £100,000 a year in council revenue.
But Councillor John Crockford-Hawley said the Beach Lawns were never created to make money so any change of use needed to be debated fully.
The council said the idea was discussed when the tender went out.
Councillor Felicity Baker, a Conservative cabinet member, said: "We've been discussing for a little while and it was a tender that went out so there was at least six weeks for people to have their say on it."
Last May, the council granted a 25-year lease for an adventure golf attraction but the developer, Golfantasia Ltd, from Horsham, West Sussex, withdrew its tender in November.
Another company, Event Attractions Ltd of Bridgwater, has now been approved to take on the lease, although it will still need to obtain planning permission.
The golf course would involve a £450,000 investment by the firm to build pirate-themed features such as large skulls, a pirate ship play area, water features and cafe.
But Mr Crockford-Hawley believes the idea itself should be looked at in more detail.
He said: "The idea of Beach Lawns was to have this swathe of green between the buildings and the beach.
"They were never considered to be a building site and the current council seems to think they can use the Beach Lawns to make more money.
"There's nothing wrong in making money, but we have to address the issue of what are the Beach Lawns for?"