Bath and North East Somerset tourism leaflet criticised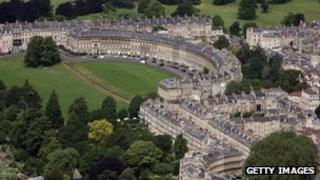 The Bath Official Visitor Guide has been criticised for covering Bath, the Cotswolds and Wiltshire but ignoring some nearby attractions.
The guide which is produced by Bath and North East Somerset Council has been criticised by Conservative councillors.
Vic Pritchard said both the Chew Valley and the Mendips offered a "host of attractions" but they had been "blatantly ignored".
The council has said the booklet was not meant to be a definitive guide.
'Local economy'
The issue was raised at a council meeting by Conservative councillor Liz Richardson, who represents Chew Valley.
The Conservatives have now called for the council to ensure the rural parts of the local authority area are better promoted in the future.
During the meeting, Ms Richardson said: "It's important for our local economy to encourage people to come and visit our area, use our pubs and restaurants and stay in local B and Bs.
"I hope the council will take this on board in future."
The council said apart from the booklet, tourism was also promoted through the website and app.
Cabinet member, Liberal Democrat Cherry Beath added it was working on other ideas to encourage visitors to the area.