Weston's T4 on the Beach event may be replaced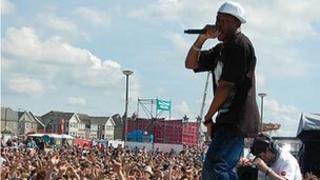 Efforts are being made to set up another music event in Weston-super-Mare to replace T4 on the Beach after it was dropped by Channel Four.
The one-day music concert used to bring in around £5m to the local economy every year since it began in 2005.
North Somerset Council has confirmed it is in talks with another organisation to hold a two-day event but will not reveal any more until a deal is made.
Local businesses have said they are keen for a replacement to be found.
Cabinet member for tourism Felicity Baker said: "It's not just going to be something that's run by local people in Weston.
"It would be something that would be similar [to T4 on the Beach] but actually larger because the people we're in negotiations with want to do it over two days so it would be over an entire weekend."
Although there was never a guarantee that T4 would be held at the same venue every year, the T4 concert returned to Weston for eight consecutive years.
But when Channel Four dropped the T4 brand it spelled the end for its related programmes and tie-in events.
Channel Four said it wanted to replace the T4 brand to reflect the change in viewing habits and find new ways to serve its younger viewers.