Weston Hospice Care left £250,000 legacy by founder member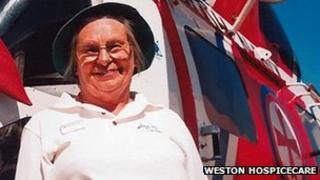 A woman from Weston-super-Mare has left a legacy of a £250,000 to a hospice she supported for 25 years.
Ruth Burgess, 87, helped set up Weston Hospicecare in 1989 and volunteered her time to help it stay running, almost up until her death in March last year.
Sarah Bostock, of the hospice, said Mrs Burgess was "really central" to the organisation from the start.
The hospice costs almost £3m a year to run and relies solely on fundraising and donations.
"She was one of the members of the group that got the hospice up and running," Ms Bostock added.
"She would go door-to-door, she would do street collections. She would try and convince anyone she could to become part of the hospice and helped grow it to what it is today.
'Special person'
"We obviously rely solely on fundraising, donations and things from our community to fund the hospice. So we are so pleased and thankful [for the donation]."
Gill Auden, chief executive officer of the hospice, said Mrs Burgess was a very special person.
Weston Hospicecare provides specialist nursing care, practical advice and support to local people living with life-limiting illnesses, and their families.
The hospice covers Weston-super-Mare and the surrounding areas, including Highbridge, Burnham-on-Sea, Cheddar, Yatton, and Clevedon.