Prince Edward may be invited to be University of Bath chancellor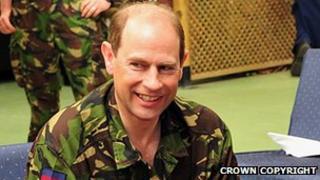 The Earl of Wessex could be invited to become the University of Bath's fifth chancellor.
It is proposed that Prince Edward take up the position from 1 August on the retirement of Lord Tugendhat, who has been in post for 14 years.
The appointment is due to be formally discussed at a meeting of the university court on 12 March.
The chancellor, who is by royal statute the chief officer of the university, presides over meetings of the court.
The individual confers degrees at graduation ceremonies and represents the university.
Vice-chancellor Prof Dame Glynis Breakwell, said that as chancellor, His Royal Highness could make a major contribution to the life of the university.
"He will be an excellent advocate for us both nationally and internationally which is why we are making this recommendation to our court," she said.