Talks to prevent more gorge road closures due to bad weather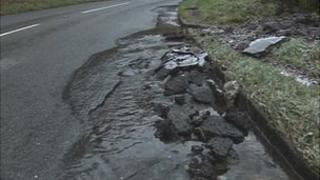 The main route through Cheddar Gorge remains shut as talks get under way over measures to prevent future bad weather-related closures.
The B3135 has been closed since the end of November. Heavy rain, flooding, snow and ice have all caused damage to the road surface.
A county council spokesman said water was still flowing down the road but some repairs had been carried out.
"Conditions have been treacherous there during the cold weather," he added.
"At the same time as trying to open the road, we are working with the caves manager, Natural England and the National Trust on a long-term solution to water flow like this causing a closure."
Last month police warned of "significant danger" on the road due to the weather conditions.
Insp Nick Hunt, of Avon and Somerset Police, said safety was a priority and urged drivers who were ignoring 'closed road' signs to "use common sense and find alternative routes".