Charity Commission reviews Bath land swap proposal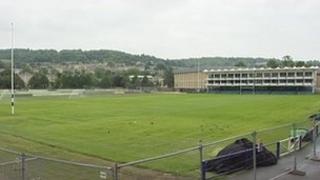 An internal review is being carried out by the Charity Commission over a proposed land swap deal in Bath.
The deal involves Bath Rugby Club giving up its former training ground in Lambridge in exchange for a bigger part of the recreation ground in the city.
As the recreation ground is owned by a trust, the swap must first be approved by the Charity Commission.
The outcome of the review is expected to finish in April and will determine whether or not the deal can go ahead.
'Public scrutiny'
In December, the commission carried out a public consultation over the plans.
The commission received 1,868 representations in total, with 1,624 in support of the plans.
But as a result of the 244 objections, further work was needed before a final decision could be made.
Bath Rec Trust chairman David Dixon said although there was some frustration, he believed the four-month period would ensure a "really robust" decision-making process which "could stand up to public scrutiny should anyone want to challenge that decision in court later on".
An earlier study in October 2012 carried out by the trust showed 85% support for the swap, roughly in line with the commission's findings.
More than 4,500 people took part in the trust's survey and 3,866 were supportive of the plans.