Wedmore 'community-owned' solar plant plans drawn up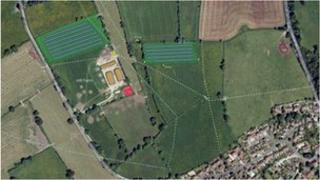 Plans have been drawn up to bring a "community-owned" solar power plant to a Somerset village.
Wedmore Community Power Company wants to develop two micro-generation sites on 1.7-hectare and 0.75-hectare of farmland to the north of the village.
A statement said the solar panels would generate enough "clean electricity" to support more than 300 local homes.
A public meeting took place at Wedmore First School Academy on Thursday to discuss the project.
The cooperative said the two-field site, located in two paddocks between Lascot Hill and Quab Lane, would reduce the village's carbon footprint and bring "financial prosperity" to the community.
Preliminary agreements are already in place with landowners to establish a 1MW array of solar photovoltaic panels.
'Early days'
"This is all about the community taking charge of local, renewable electricity generation," said Robin Mewes, managing director at Rooftop Consulting Ltd, one of the groups behind the new cooperative.
"It is a business proposition that relies on local investors, those investors will also be members of a new co-op with one member - one vote democratic control."
Wedmore resident Jan Beer, who owns The Cottage Gallery in the centre of the village, said the concept was a "great idea" in principle.
"Most people would think it's a good idea but I don't think people know enough about it at the moment.
"It is early days. With prices going up it seems silly not to investigate."
A spokesman for the parish council said it was aware a group had been set up but no planning application had been submitted.
The solar panels will be placed in two paddocks near Mill Farm, with plans to surround them with new hedging and security fencing.
It is also hoped some of the profits can be put back into the community, with further plants a possibility.
Wedmore Green Group is working with Rooftop Consulting Ltd on plans to set up the Wedmore Community Power Company as a cooperative, meaning local people can buy a stake.