Twerton veterans plea for war memorial clean-up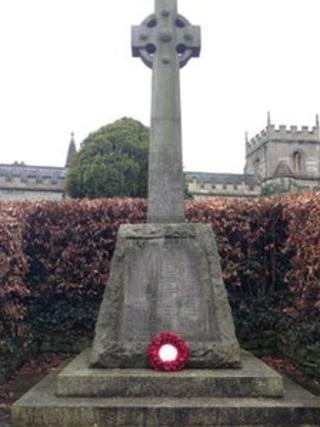 A Remembrance Day service could return to a Bath suburb after veterans complained to a councillor.
Liberal Democrat Tim Ball said they asked for the memorial at St Michael's church in Twerton to be cleaned up.
He said a service had not been held there for at least 10 years. He now plans to talk to the Royal British Legion about cleaning the stone.
The names of the 148 soldiers from Twerton who died during World War I are inscribed on the stone.
"I was contacted by several veterans recently who said 'look, this is not good down here at all'," said Mr Ball.
"And coming to have a look around it and picking up litter myself a few weeks ago, we have to do something now.
"I think it's really appropriate that we have a memorial here in Twerton so we should actually use it properly. Other areas do it - Haycombe does it nearby."
BBC reporter Andy Howard who has been to the monument said it had seen better days.
"The stone is discoloured green, some of the fallen soldier's names are missing letters and there's litter around the base of the monument, as well as on the grass and the path nearby," he said.