New £400m Bath Riverside scheme plans on show to public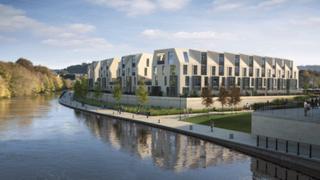 Residents in Bath have been given the chance to comment on plans for the second phase of the city's £400m Western Riverside regeneration project.
Proposals, which include 26 townhouses and apartments, a cafe and gardens, were put on show at Green Park station.
Permission for 2,000 homes, both private and social, has already been approved for the derelict site.
"Phase one of the development was nearing completion," said a spokesman on behalf of the developers.
Developer Crest Nicholson said the scheme was "one of the most important regeneration projects in the UK".
The location had previously been derelict for more than 25 years.
Campaigners have previously criticised the design, claiming it could threaten Bath's World Heritage status.
In 2009, inspectors from Unesco decided plans for the development did not harm the city centre.
The plans were earlier displayed at the Green Park Brasserie.