Butlins has 1,200 police call outs in Avon and Somerset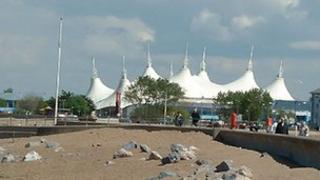 Police have been called out more times to Butlins in Minehead in the last five years than any other other licensed premises in the Avon and Somerset area.
Figures released by the force show officers have been called to the holiday camp's social club 1,220 times since August 2007.
The next highest number of calls was 828, to Bristol nightclub Oceana.
Butlins said the high volume of calls reflected the large number of guests, and that they were not all about crime.
'Strong relationship'
Over the last five years, the number of call-outs to the holiday camp has ranged from 225 to 290 a year.
A spokeswoman for Butlins said: "The large number of police call-outs to Butlins Minehead is only indicative of the large number of guests passing through the resort, and the fact that the Butlins team have a strong relationship with the local police.
"In 2011 almost 600,000 guests each spent between three and four days and nights at the resort.
"The breakdown of calls includes lost items, accidents and illness, and children who have wandered away from parents."
Earlier in September, police in Minehead announced a new partnership with Butlins to tackle alcohol-related anti-social behaviour by holiday-makers leaving the camp to visit pubs and bars in the town.
The holiday resort is funding extra policing during its high-volume weekends this autumn.
But Insp Lisa Simpson said this was a separate issue and that crime was "relatively low" both inside and outside the camp.
She said there were 10,500 people living in Minehead, and 6,500 visitors to Butlins at a weekend meant the town's population swelled by two-thirds.
"In a town with that population you are bound to get need for police, but it's not all about crime," Insp Simpson said.
"We are not policing any more in the camp any more than we ever have."
She said some calls were to provide information rather than request help as Butlins was part of a Pub Watch scheme.
And she added that figures for Butlins could not be compared with a nightclub which people went to for just a few hours on a limited number of evenings a week.
She said extra policing sponsored by Butlins was being brought into the town because residents were intimidated and put off visiting the centre due to the high level of groups in the pubs and bars, and incidents of alcohol-related anti-social behaviour.
"Crime hasn't risen on weekends, it's fear of crime," Insp Simpson said.