Second Christmas market proposed for Broad Street, Bath
30 August 2012

From the section

Somerset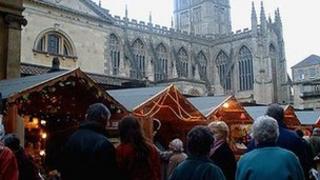 Plans for a second Christmas market in Bath have been put forward.
The already established market in Abbey Churchyard will go ahead as normal but a second group wants to put up 12 stalls at the bottom of Broad Street.
Plans have been submitted to the council and are due to be considered next week.
But some traders fear that closing part of the street will drive customers away and they have written to the council to voice their concerns.
They argue the road closures necessary for the market to go ahead would cause traffic chaos in the area and drive trade away.
'Total, total chaos'
Maggie Vowles, who owns clothes shop Definition, said when Broad Street had been closed before - perhaps for roadworks - customers did not come in.
"To do it [close Broad Street] at Christmas and to alter the traffic will cause total, total chaos.
"I think it's totally unfair... it will certainly affect some of the smaller shops... because people won't walk up through," she said.
Local Liberal Democrat councillor Manda Rigby said she believed there was little demand for extra stalls and to implement the plans would need road closures.
"This is just the time when elderly residents would be trying to get to the post office. In the run-up to Christmas to have no vehicle access to the post office is not a very good idea at all."
A spokesman for applicants St Michaels Church and Milsom Place Ltd would not comment but in a statement said "more stalls will mean even more visitors to the Broad Street and Walcot Street area".
The market would run from 22 November to 9 December and the proposal is due to be discussed by the city's licensing committee on 4 September.