Baroness tour bus crash: Pete Adams leaves hospital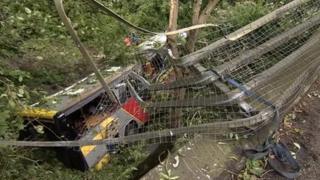 A member of a US rock band injured when their tour bus fell 30ft from a viaduct in Bath has been released from hospital, the band's website says.
The statement, posted on Thursday night, said Baroness vocalist Pete Adams had been treated and released.
It added that singer John Baizley, drummer Allen Blickle and bass player Matt Maggioni all remained in hospital.
The band was travelling from Bristol to Southampton when the bus crashed through barriers at Brassknocker Hill.
Nine people, including the four musicians, were on board when the crash happened on Wednesday morning.
According to the band's statement, three of the injured crew members have been released but the bus driver remains in a critical condition and one other crew member is undergoing tests.
Guitarist and singer Baizley is said to have a broken arm and leg while the two other members, Blickle and Maggioni, suffered fractured vertebrae.
The statement added thanks for all the support "during this extremely difficult time".
Thousands of get well soon messages have been posted by fans on the band's Facebook page.
Rock star Alice Cooper also tweeted his 96,000 followers on Thursday, saying: "Thankfully nobody was killed. Recover quickly guys."
On Facebook, Baroness is described as a rock/indie/metal band, from Savannah in Georgia, founded in 2003.