Weston-super-Mare Tropicana demolition to go ahead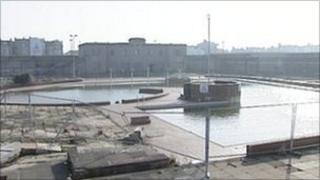 The Tropicana building at Weston-super-Mare is to be bulldozed after standing derelict for more than a decade.
North Somerset Council has been given approval by the Secretary of State for Communities and Local Government to demolish the pool on the sea front.
The decision follows a number of unsuccessful attempts by developers to find viable schemes to regenerate the site.
The land will be cleared and returned to beach with a new sea wall.
Councillor Tony Lake said: "Over the last 12 years there have been three schemes to develop this seafront site, all of which involved knocking down the current structure.
'Fair hearing'
"We welcome the fact that the Secretary of State has recognised the efforts made by the council in attempting to redevelop the Tropicana site and the process for site demolition will now begin."
But the leader of the opposition Liberal Democrat group, Councillor Mike Bell, said: "Six Conservative councillors took the decision to demolish the Tropicana in the face of public opposition.
"One Conservative minister has rubber stamped their decision. This has got whitewash splashed all over it."
The group insist the decision to allow the Tropicana's demolition is not the end of the fight.
"We will support legal efforts by campaigners to block the demolition until alternative plans to save the Tropicana have been given a fair hearing and I for one will chain myself the bulldozers to try to prevent demolition," said Mr Bell.
"This decision also shows that Weston's Conservative MP - himself a minister in the government - has no influence at the top table. His words in the Secretary of State's ear obviously went unheeded."