Somerset farmers in Robert Wiseman plant blockade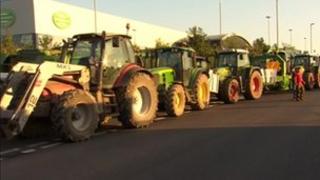 Up to 400 farmers have taken part in a second blockade at the Robert Wiseman milk processing plant in Somerset.
The farmers are protesting at supermarket prices which they say are driving them out of business.
James Badman, from Farmers for Action, said: "Such is the strength of feeling they're even turning out after a long day of haymaking and silage making."
Robert Wiseman said it had contingency measures in place to deal with disruption at its centres.
'Completely powerless'
A company spokesman said: "We have long standing contingency plans in place and a network of dairies across which we can process milk to meet the requirements of consumers.
"We fully understand the strength of feeling amongst dairy producers but we are not in a position to fund a milk price at the level it was prior to the global collapse in the value of cream.
"It is our hope that the market for cream which is at the core of this issue will quickly find a balance which will allow us to return improved prices to farmers."
Ministers are holding talks between farmers and milk processing companies on Monday in an attempt to resolve the situation.
Mr Badman said: "There are some supermarkets paying a sustainable price, albeit only the cost of production, but there does have to be a major shift in the power of the supply chain, because we are left completely powerless.
"It's going to go on until we get what we need because it's not greed that's driving this, it's necessity - we're going to be five pence below the cost of production."
On Thursday evening, more than 200 farmers in Somerset blockaded the Robert Wiseman plant.
A smaller blockade involving 30 tractors also took place on Thursday evening at the Morrisons distribution centre near Bridgwater.