Burnham-on-Sea claims world sandcastle record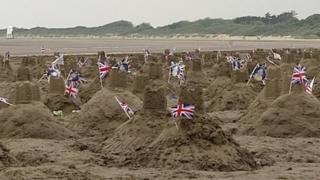 A Somerset town claims to have beaten the world record for the most sandcastles built in an hour.
Organisers say more than 993 successful sandcastles were built in Burnham-on-Sea during the town's Diamond Jubilee celebrations on Saturday.
Steve Bird, one of the organisers, said the previous record was 574.
He said three independent adjudicators had measured every castle. It takes about six weeks to verify the record with Guinness, he added.
The attempt, which involved several hundred people, took place during celebrations including a parade through the town led by a French band and Olympic torch bearers.
Mr Bird said the sandcastles had to be 2ft across, 2ft high and have four turrets.
"More than 100 were disqualified but we still managed to smash the record," he said.
"We did say after the event it was so successful that this ought to probably be some sort of annual event that we hold in Burnham-on-Sea.
"Possibly we could break the record year-on-year."