Taunton Firepool Lock development sees first residents move in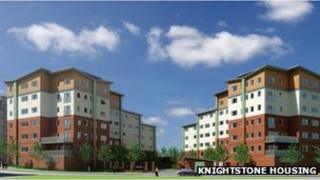 About 60 residents have moved into a multi-million pound housing development in Taunton.
About £11m has been spent on building homes in Firepool Lock. The scheme is part of Project Taunton which aims to regenerate the county town.
Waterside House is made up of 108 apartments and a proportion of them have been set aside for social housing.
Taunton Deane Borough Council hopes to deliver a total of 200 affordable homes over the next year in the Taunton area.
Mike Day, from Knightstone Housing, the company which built Waterside Housing, said: "There are two big blocks, they comprise of 108 new apartments, with 54 flats in each block.
"They are mixed tenure blocks which is a mixture of flats for sale on shared ownership terms, some flats for rent on intermediate rents, and also some for open market sale."
The scheme was partially funded with a £3.5m grant from the Homes and Communities Agency in 2002.
It is hoped the Firepool Lock element of Project Taunton will eventually create 4,000 jobs.