Bruton's war memorial rededicated to honour Sgt Ben Ross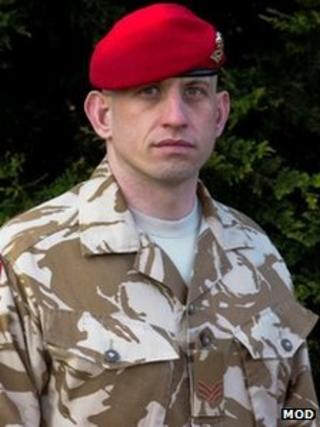 A war memorial in a Somerset town has been rededicated to include the name of a military policeman who was killed in Afghanistan in 2009.
Sgt Ben Ross , from Bangor, Gwynedd, was killed by an IED in Helmand Province while on patrol in Gereshk.
Cdr Bob Norris, from the Royal British Legion, said Sgt Moss thought of Bruton as his home town.
"He went to King's School and his funeral took place at St Mary's church soon after his repatriation," he said.
Last post
"Ben was a Royal Military Police officer who had a long distinguished service and had also worked in the close protection unit.
"His name's been carved to the war memorial at St Mary's - it's the first time a name's been added since 1945.
"The service on Wednesday afternoon will be a full act of remembrance with the names of the fallen read out before the last post is sounded," Cdr Norris said.
Also killed in the explosion on 7 May 2009 was Cpl Kumar Pun of 1st Battalion The Royal Gurkha Rifles.